Product Description
Bushnell Vault Binocular Pack
The Vault Binocular Pack is the first truly modular binocular harness pack and makes it easy to protect and access your glass in the field.
With an ultra-quiet forward open magnetic lid, you can quickly access up to a 12×50 binocular as well as smaller binoculars with the included riser. The lid can act as a shelf when open to keep important items accessible with the internal mesh pocket. The Vaults magnetic closure securely keep your binos in the pack when closed allowing you to confidently move around in spot and stock situations and will keep the binos in the pack even when upside down. The Vault also has mesh pockets with an elastic band on both sides for wind checkers and mouth calls as well as a padded slip pocket on the back for your mobile phone or documents. The Vaults modular design can also be used as a stand alone harness without the pack. The optional Vault LRF pouch uses the same great magnetic closure and easily connects to the Vault pack.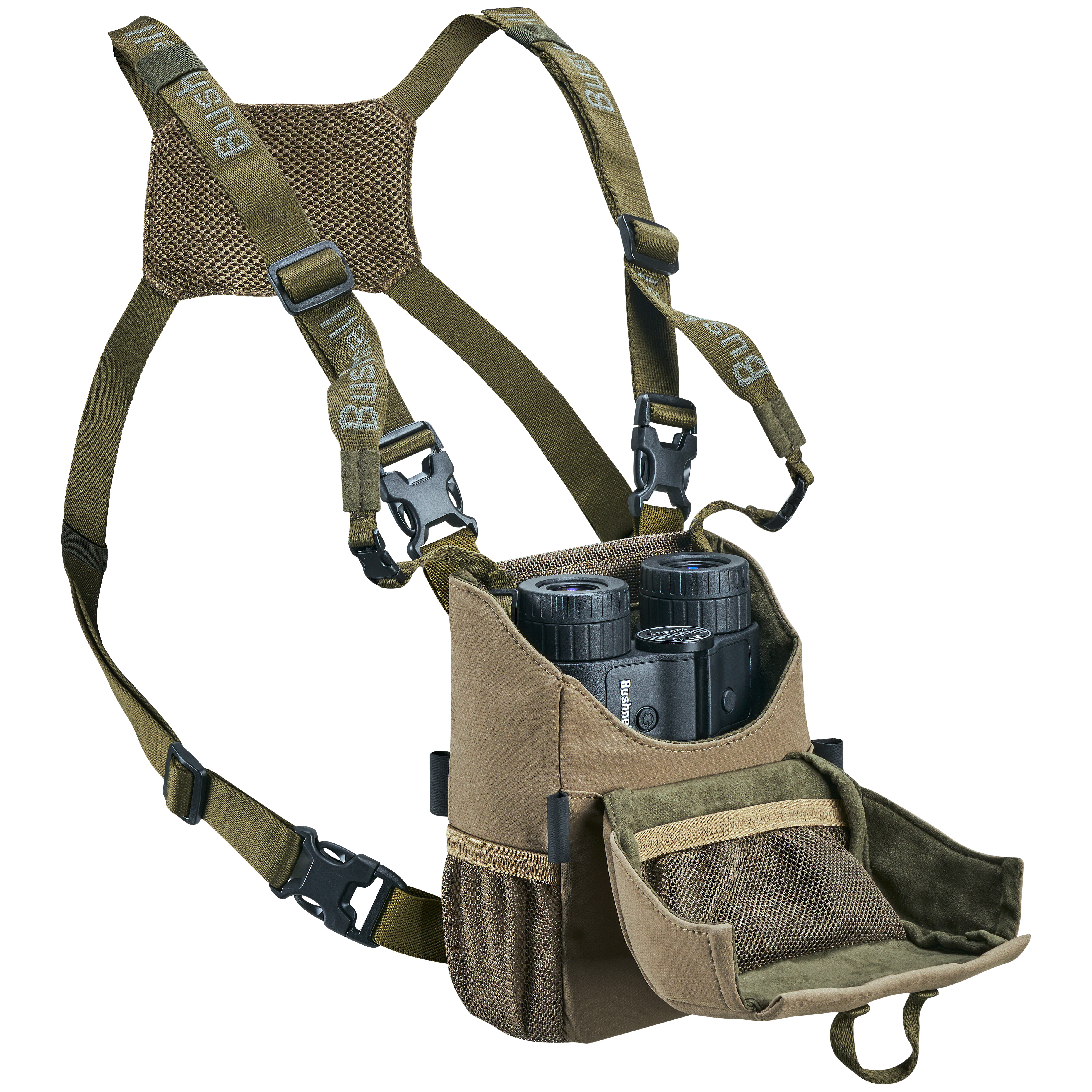 Quiet In The Field
Quiet fabric and forward opening magnetic closure allows for one hand operation and reduces noise in the field. Magnetic hold down keeps the lid from closing on its own so you don't have to fight the flap.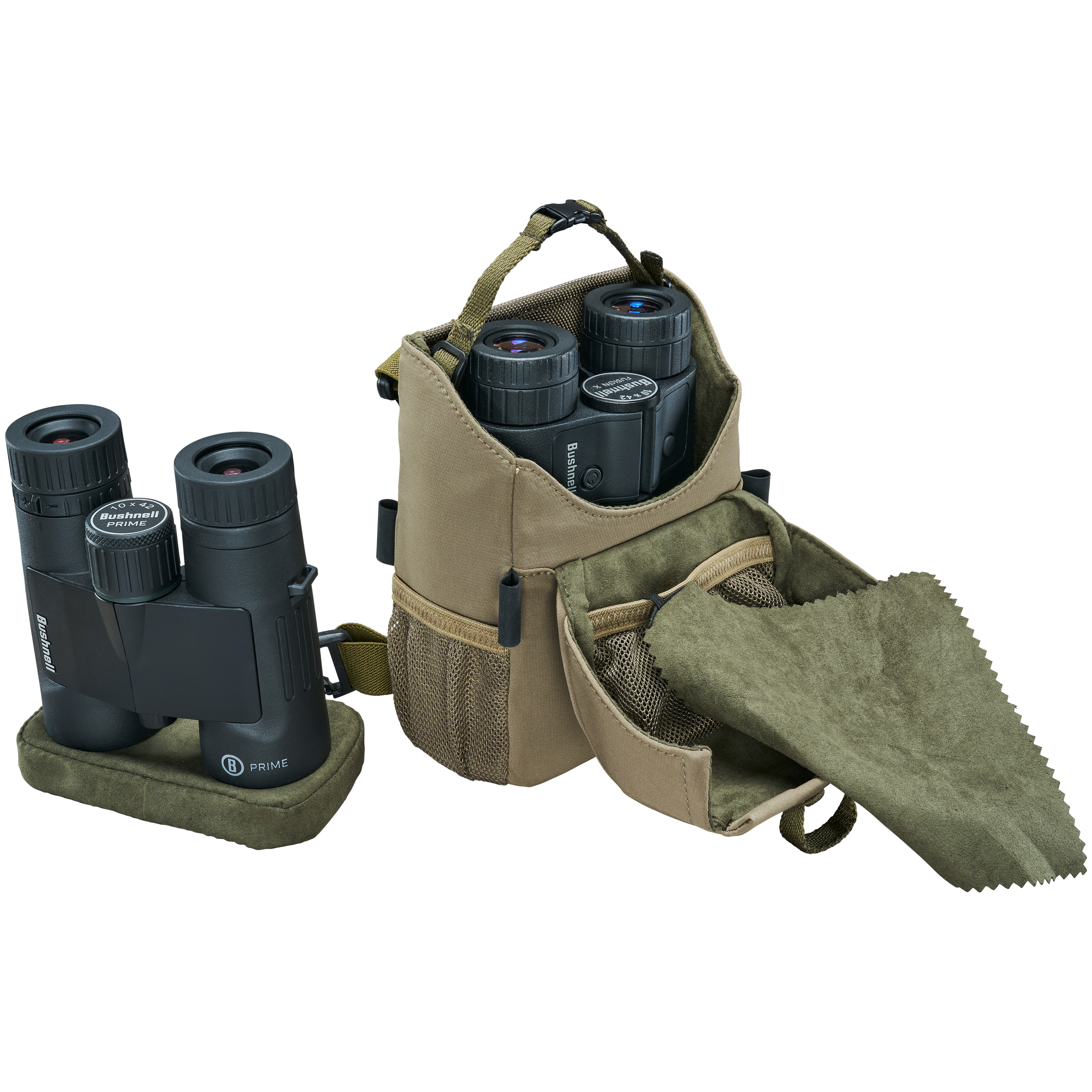 Fits A Range Of Binocular Sizes
Fits up to 12×50 roof binoculars. Included Riser allows shorter binoculars to sit at the top of the pack.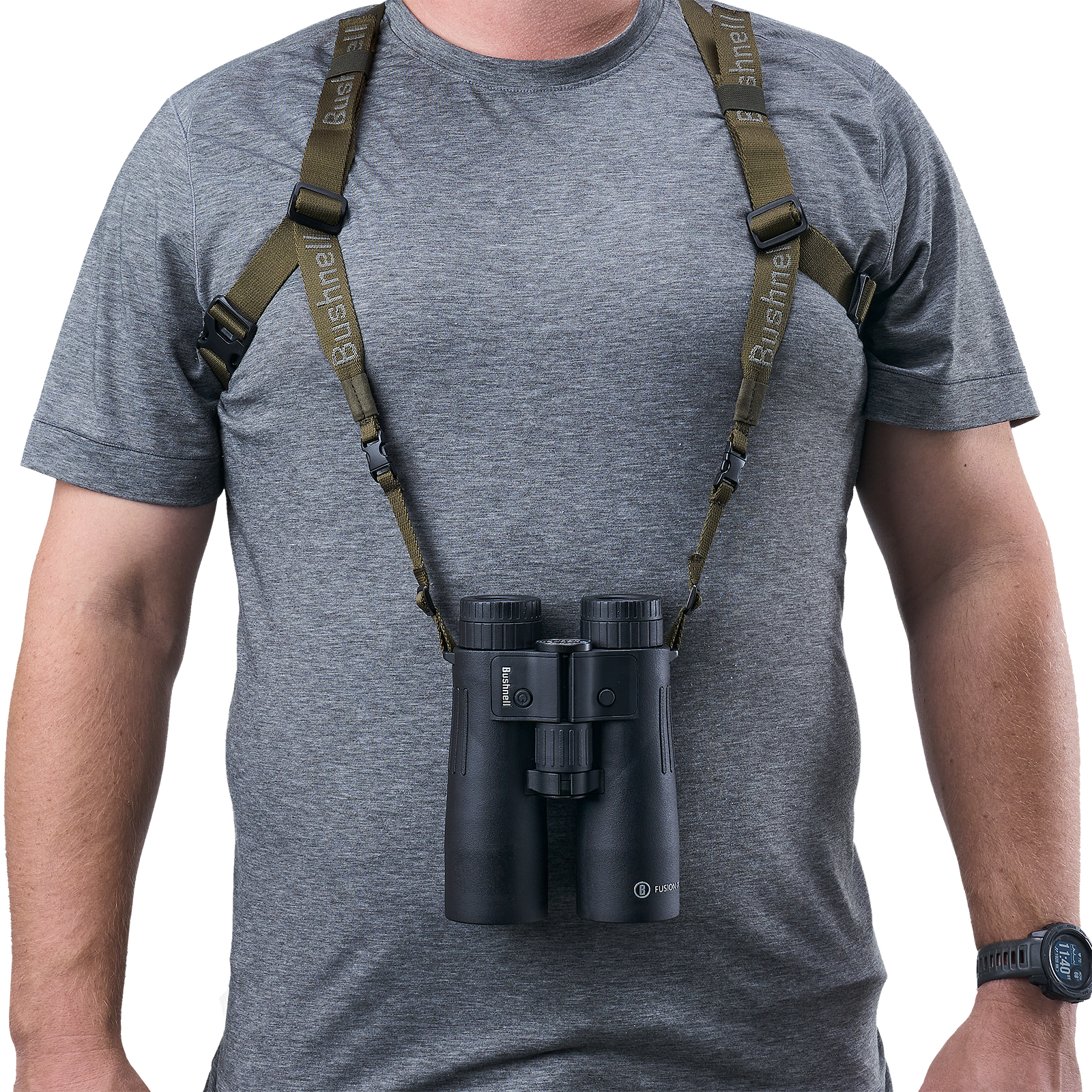 Two-In-One Design
Remove the pack and buckle the offset buckles into eachother to create a stand alone harness
Additional Storage Space
Two external mesh pockets on either side allow for wind checkers and mouth calls. Internal stretch pocket houses an attached lens cleaning cloth. Slip pocket on the back can house most large cell phones.
QUIET, MAGNETIC CLOSURE WITH EASY, ONE HAND ACCESS – The Vaults magnetic closure makes it easy to access your glass quickly without making noise in the process. The closure eaily opens forward with magnetic hold open so that you don't have to fight the flap. The Magnets are strong enough to keep your binos from falling out when the pack is upside down but do not CLICK when closing.
DURABLE, SOFT TOUCH FABRIC REDUCES NOISE IN THE FIELD – Soft touch material prevents sounds from movement in the field making sure you don't blow your position. The material also provides water resistance to protect your gear. The inside of the pack is lined with lens cleaning cloth material to keep your galss protected and make it easier to slide in and out of the pack.
SLEEK, COMPACT DESIGN WITH MODULAR CAPABILITIES – The compact design makes it easy to carry what you need without getting in the way of your movement. Molle webbing on the bottom of the pack allows a pistol or bear spray holster to be mounted. Offset quick release buckles on the binocular attachment straps can be unclipped from the harness and into each other creating a carry handle for the binoculars when not in the pack.
ULTRALIGHT, COMFORTABLE, AND MODULAR HARNESS – The fully featured harness is an easy-to-use comfortable design. Mesh padding on the harness provide a comfortable fit but also helps with heat management. Offset buckles allow for the harness to clip into itself creating a stand-alone harness that can be used if the pack is not needed.
FITS UP TO 12×50 ROOF BINOCULARS – Tested to fit most roof optics up to 12×50 configuration and maintain your IPD setting so you can get behind the glass quickly. For smaller binoculars, the included riser allows them to sit at the top of the pack making it easier to grab and can be removed for larger binoculars.
USEFUL STORAGE – A stretch pocket on both sides of the binocular pack can store your mouth calls, wind checkers and additional small items. Internal stretch pocket houses an attached lens cleaning cloth as well as house additional accessories or hunting tag. The large slip pocket on the back can house your cell phone.
1- Year limited warranty
Specs
| | |
| --- | --- |
| Item ID (SKU) | BABINPCT |
| Product Name | VAULT MODULAR OPTICS PROTECTION SYSTEM BINOCULAR PACK |
| Height External | 7.75″ (197mm) |
| Height Internal, No Riser | 7″ (178mm) |
| Height Internal W/Riser | 6.14″ (156mm) |
| Width External | 6″ (152mm) |
| Width Internal | 5.5″ (140mm) |
| Depth, External | 3.5″ (89mm) |
| Depth Internal | 2.75″ (70mm) |
| Weight, No Riser | 13.7 oz (389g) |
| Weight W/Riser | 14.5 oz (412g) |